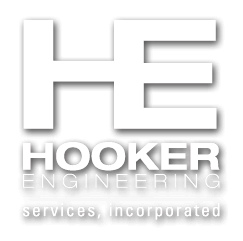 Established in 1985, Hooker Engineering Services, Inc. is a multifaceted design firm handling many projects
simultaneously diverting personnel and resources required by the project on an as need basis to give the
client the most attention from our staff.

Hooker Engineering Services, Inc. provides municipalities, counties, state agencies, architects, engineers,
and individuals a complete package of consulting engineering, surveying, and construction testing and
inspection services. Our firm has provided these services on roadway rehabilitation and construction projects,
water and sewer systems, bridge projects, housing projects, apartment sites, private developments, and
many other diverse projects for our clients.

Hooker Engineering Services, Inc.'s current staff of Licensed Professional Engineers, Licensed Professional
Surveyors, Surveyor Interns, Architect Intern, and Engineering and Survey Technicians and Certified Testing
Technicians and skilled office administrators is sufficiently staffed to perform the required consultant
Engineering and Surveying Services with reasonable dispatch.

Hooker Engineering Services, Inc. has up-to-date computer resources, office equipment, the latest surveying
equipment, the most current Autodesk Infrastructure Design and Building Suite engineering design software,
and the required software needed to meet the demands of providing Engineering and Surveying Services
to our clients.

Hooker Engineering Services, Inc. maintains a Construction Materials Laboratory that is approved by the
Mississippi Department of Transportation and the Office of State Aid Road Construction.